About Beaupre photography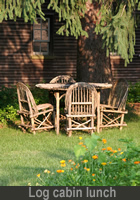 I first discovered what light could do to paper in my father's darkroom. He was a professional photographer who founded, owned and operated a portrait studio in New Hampshire.
After 30+ years in public relations – the last 25 as co-founder of one of America's leading technology PR firms – I've rededicated myself to one of my earliest loves, spending weekends, vacations and spare moments with my digital camera – a very different device than my Dad used so many years ago.
What isn't so different is the passion. I've come to a few conclusions about my work as whole:
Lighting and shadows are special friends
The images that give me the most satisfaction feature special lighting, warm tones and interesting shadows. I seek these out. It's remarkable how the same setting or person is transformed.
Enter the Light (Portsmouth section) illustrates this. Twenty-three hours on a normal day, this church entrance is in full shadows and quite nondescript. But waiting for the perfect moment, on the right day, transforms the scene.
I enjoy it most when the shot discovers the photographer.
The photos I like best are the ones that aren't preconceived and calculated. They emerge as scenes and settings seek out the lens. It's an unfolding experience where the photographic eye discovers an image that was visible but not readily apparent. When and if it appears, I gain satisfaction from building the composition that will make it come alive. While this approach takes a little more forbearance, it's immensely gratifying.
"Log Cabin Lunch" illustrates my "Let the shot discover me" philosophy. It's a photo of a rustic willow table and chairs under a pine tree overhang. If you viewed this scene in person, you would see a standard clapboard house. But when I visited the same scene at the right time of the right day at the right time of year, the light magically transformed the house into what looked and felt like an authentic log cabin.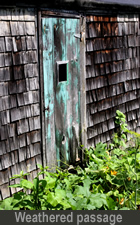 People swear the photo was taken in Wyoming or Montana, but it's in an old neighborhood by the salt water in Portsmouth. Through light, shadow and good luck, the shot had discovered the photographer.

I love it when an image generates an unexpected emotional response.
"Weathered Passage," a photo of an old door in Strawbery Banke in Portsmouth, N.H., evoked this response from Alison Leahy, who owns the piece: "I was immediately drawn to the incredible robin's egg blue color. It seems so out of place on such a weathered old door. I'm reminded of the cabinet my grandmother had in a dusty corner of her barn in Potter Place, N.H. The lively burst of color on an otherwise decrepit door takes me back every time I look at it."
"Salty lilacs," a photo of Portsmouth Harbor taken in the spring of 2005, prompted an equally vivid response in Terri Casassa, who owns this piece. "Every time I look at it, I'm transported to a special moment in time when I was a kid. Summer was arriving and I could finally get outside and say good-bye to cabin fever."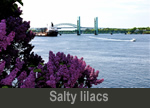 While the graphical reality of an image is an objective fact, the image can trigger a journey that is subjective, personal and entirely unforeseen.
I welcome, and feed off, free association.
While some photographers are driven by their own aesthetic experience or the single message they hope to convey, I encourage and embrace any reaction, association and personal narrative a viewer brings to the shot. It's not about me. It's about you, or maybe us.
Less is almost always more.
The most compelling Beaupre images are 'less is more' photos; not sweeping vistas, but slices of landscape imagery. As Robert Capa said, "If your pictures aren't good enough, you aren't close enough."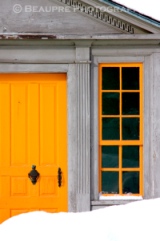 I am often drawn to one particular attribute of a scene – for example, a stained glass window, versus a wide spanning church interior. Or one flower cluster versus a sea of blossoms.
I'm also drawn to the metaphorical transference of doors and windows. For me, a closed door can stimulate so many reactions: the possibility of intrigue; discovery of the unexpected; doubt about whether it will ever open; the lure of a potential welcome; the promise of engagement; an invitation to the unknown.Nonetheless, I never force the tight shot, or any shot. Just as a great shot discovers the photographer, the best compositions emerge naturally from the subject.